Sapna Chaudhary, Haryana's dancer, took away the loot in front of Bhojpuri heroine Monalisa, this is the whole matter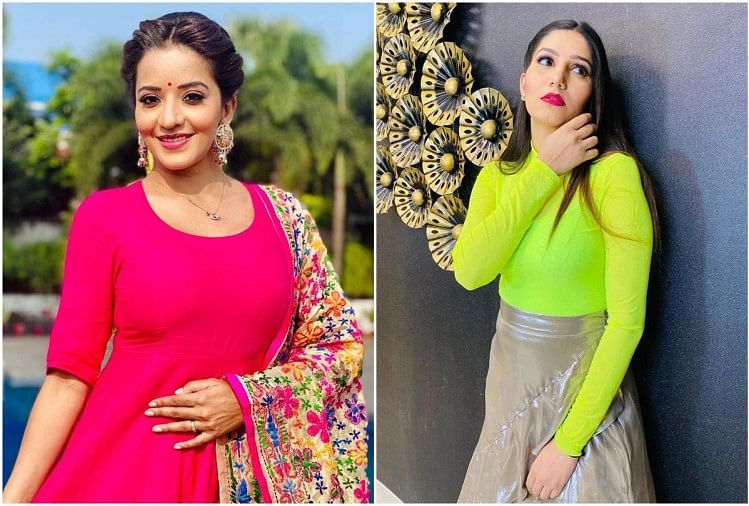 Actress Monalisa, who made headlines by posting her erotic photos on her social media pages every other third day, finally got an idea of ​​her status in the entertainment world. Where a new television serial was being tied to his name, but when the show came to launch, all the limelights were looted, Sapna Chaudhary, an international star from Haryana
The story of the serial 'Namak Isk Ka', which starts on 7 December, is the story of Chamcham, a dancing girl. Sapna Chaudhary, a famous dancer from Haryana, who was particularly involved in the launch of the show, was happy that for the first time on TV, the life of a dancer would be shown in depth. Sapna said, 'I am very happy that someone understood the pain of dancing girls and tried to bring an entire story to the world on this. This is an issue that we hesitate to talk about. Hope this show can give a new direction to the life of us dancers.
Continuing her point, Sapna says, 'I understand this pain very well because I myself have gone through this phase. People view my dance skills with the wrong eye. I believe that if there is a skill inside someone, then his place should also be equal to other works. Everyone has the right to have a home, a family, a husband, he should be loved, respected. Perhaps people will not understand the seriousness of this issue so soon! But, now if there is talk on this issue in society, then it will also change.
The story of the serial 'Namak Isk Ka' is about a dancing girl who people consider to be a dancing person. However, dancing is also fond of the girl and she considers it her profession as well. He has the skill to dance but people look at him with the wrong eye. The girl also wishes that she has a family and she is married in a respectable family. However, his challenge is so great that he has to face a lot of difficulties in getting a respectable place. The girl plays the actress Shruti Sharma in the serial.
Shruti hails from Lucknow, the capital of Uttar Pradesh. He told that people are even more excited to see him as he is from Lucknow. Shruti said, 'Actually, the culture of Lucknow is different and the people there have a different nature. When people come to know that I am from Lucknow, they start talking with great enthusiasm. Even though I am from a small town, I have never faced any discrimination because of it. Of course, the industry has its challenges. Everyone has to face them.
Actors Aditya Ojha of Bhojpuri films and actress Monalisa of Bhojpuri films are also in this serial. Monalisa is playing a negative character named Iravati Rajput in this serial. Viewers have also seen Monalisa in the role of Vamp in 'Nazar 2' earlier. Regarding playing a negative character again in 'Namak Isk Ka', Monalisa says, 'I think negative characters are being liked a lot now in TV. There has been a different change in them.